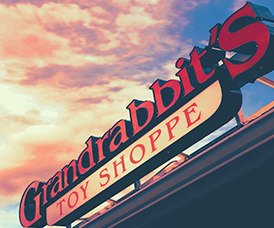 Please Note New Temporary Return Policy:
We are not able to accept returns at this time to keep customers and employees safe.
Please verify all purchases before leaving the store for pick up.
Since opening our doors on October 3, 1977, Grandrabbit's has grown from its modest beginnings to become a beloved community institution. Our customers appreciate our socially conscious values, and unique merchandise. We offer complimentary gift wrap and our Bunny Bucks program has given away an average of $25,000 a year for over 30 years to Colorado schools. We are excited to offer these same services nationwide, and to be a supportive community for parents, grandparents, educators and those who work with and care for children.