Our History and Philosophy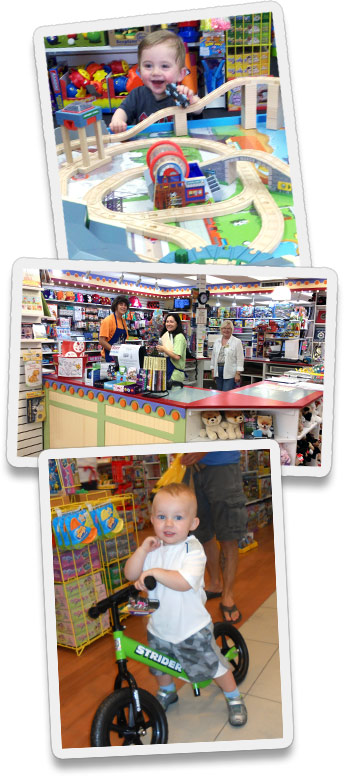 Welcome to Grandrabbit's Toy Shoppe! We are an independently-owned, specialty toy store with three locations in the Front Range of Colorado. We carry a wide range of hand chosen, educational and fun toys for gifts, holidays, birthdays or any special occasion. We've been voted The Best Children's Store in
Boulder
for over 30 years.
As I look back, I must say - it's been quite a journey from our humble beginnings.
In 1974, I was the scholarship director for a private
Montessori
School
in
Boulder
,
Colorado
, with a long term goal to enter the social work or psychotherapy field. I was frustrated with the disparity between our stated cultural philosophy that children are a high priority and the reality I saw. Particularly, I worked with many single moms who had to work out of necessity, and who could not find jobs that recognized, respected and worked around their most important job – that of being good mothers.
Armed with only a dream that a business could be a positive force and benefit the local community, I opened Grandrabbit's Toy Shoppe on October 3, 1977 in
Boulder
. The name "Grandrabbit" was taken from a wonderful old lady I knew whose children nicknamed her "Rabbit" and so when she became a grandmother she became known as "Grandrabbit." Any knowledge or business experience on my part was severely lacking, so the first years were a rather comical series of learning experiences until I discovered the ins and outs of the business world. It was the old, "jump in the middle of the lake to see if you can swim," method!
My philosophy has expanded since then and I have come to believe that if we would truly make all children –of all national and ethnic origins, creeds and needs – a global priority, that the staggering challenges we face as human beings could be more easily resolved. The motivation for profit at any cost fails to recognize the human and environmental impacts of business decisions.
That is why, over thirty years later, our goals remain the same:
To be an evolving business organization that benefits everyone involved. To be successful in human as well as financial goals, and to be a catalyst for positive social change. We are committed to offering high quality, aesthetically pleasing playthings that contribute to a child's learning and development.
Lynne Milot
Foundress